13 Jul
Trying to incorporate more vegetables into your meals? Add them to pizza! This white pizza is loaded with squash, tomatoes, and fresh basil and topped with a mix of mozzarella and creamy garlic and herb cheese. I like making my own dough, but store-bought will work just fine, too. And if you don't have a grill, make the pizza in your oven. Read my directions here.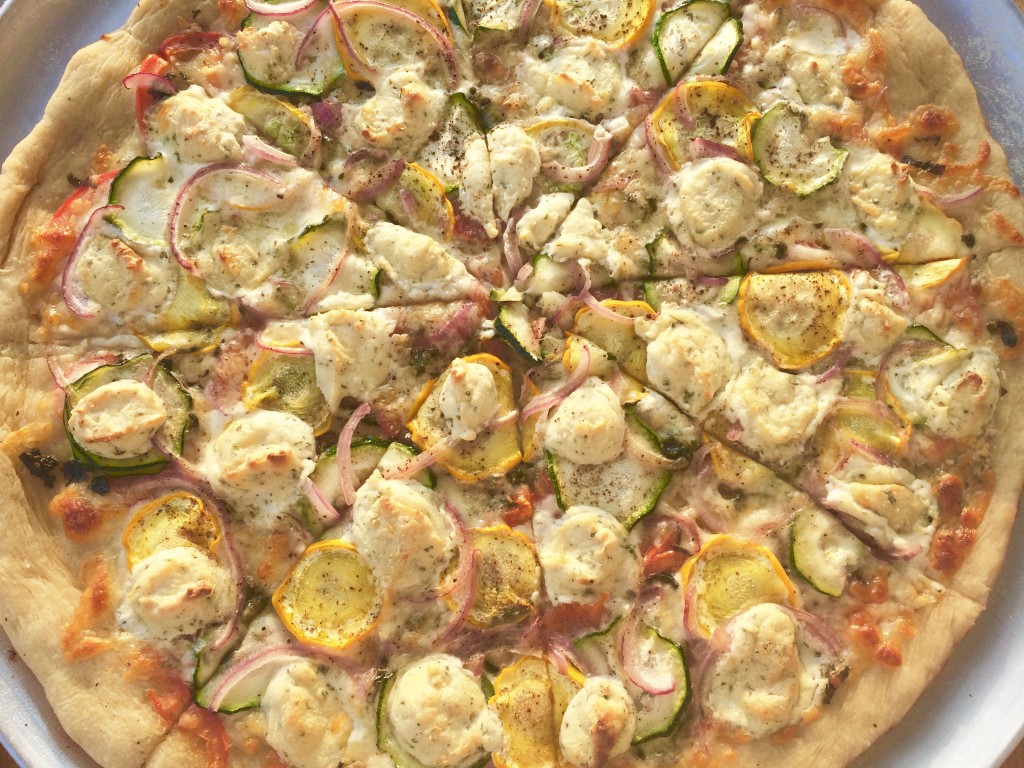 Grilled Summer Vegetable White Pizza
2015-07-13 06:03:54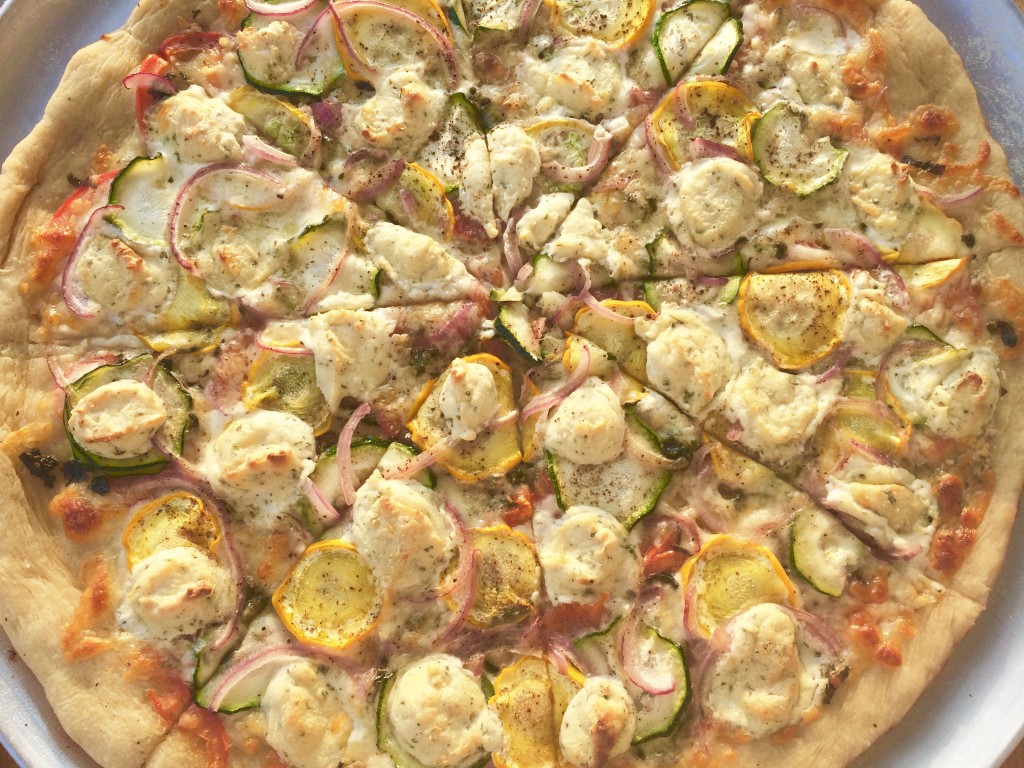 For the Pizza Dough
2 1/4 teaspoons (.25 ounce) active dry yeast
1 teaspoon white sugar
1 cup warm water (110 degrees F)
2 1/2 cups bread flour
2 tablespoons olive oil
1 teaspoon salt
For the Toppings
2 tablespoons extra virgin olive oil
1 cup very thinly sliced zucchini
1 cup very thinly sliced yellow squash
1 plum tomato thinly sliced
1/2 cup thinly sliced red onion
2 cloves garlic, minced
8 oz. grated mozzarella cheese
2 oz. garlic and herb soft, spreadable cheese
2 tablespoons chopped fresh basil
1/2 teaspoon dried oregano
1/4 teaspoon kosher salt
Red pepper flakes, to taste
For the Dough
In a medium bowl, dissolve the yeast and sugar in warm water. Let stand until frothy, about 10 minutes.
Stir in flour, salt, and oil. Kneed until smooth.
Turn dough out onto a lightly floured surface and cover with a damp towel. Let rest for 15 minutes.
With a floured rolling pin, roll out dough to desired thickness.
Transfer to a well-greased pizza pan.
For Assembling
Brush rolled-out dough with olive oil.
Place slices of tomatoes evenly on the crust, and sprinkle with minced garlic, dried oregano, and chopped basil.
Sprinkle with mozzarella cheese.
Place slices of zucchini, yellow squash, and red onion evenly on top of the cheese.
Season with kosher salt and red pepper flakes.
Add small spoonfuls of garlic herb cheese evenly on pizza.
For Grilling
Turn on all burners of the grill, and preheat to 450-500 degrees for at least 5 minutes.
Spray or brush the grill grates with cooking spray or oil.
Place the pizza on the pan on the grill grates. Close the grill lid, and turn all burners down to low (to heat the top of the pizza) for about 5-8 minutes.
After that amount of time, with a potholder, grab ahold of the pizza pan, and gently shake it to test whether the dough is loose from the pan. If it's not loose, close the lid of the grill and cook for an additional minute or so. If it's loose from the pan, gently slide the pizza off the pan and onto the grates of grill (you might need to gently slide a spatula under the crust).
Turn all burners to medium heat, and close the lid. With a metal spatula, rotate pizza 45 degrees every 30-60 seconds, until the crust is evenly crisp.
Slide pizza back onto pan, and cut and serve.
Adapted from Annie's Eats
Seasoned to Impress http://seasonedtoimpress.com/